Icon The Residences Marbella New Villas For Sale Santa Clara
real estate costa del sol
icon ''The Residences'' Santa Clara Marbella New Villas For Sale
your home close to the beach
This beautiful real estate development in Marbella offers 24 houses for sale, which are perfectly located in a safe community and these properties are the work of Gonzalez Jacobson, whose attention to detail and love of design is reflected in this unique and very special project.
Set on a small elevated area overlooking the golf course, the sea and Marbella Beach, Icon Residences, less than 1 km away, is a new exclusive residential area project featuring design, architectural concepts and lifestyle aspects.
icon The Residences in Santa Clara Marbella offers stunning views of the golf course and the sea and offers for sale individual 4-bedroom villas with a range of 250 m2, not to mention terraces, which together have more than 400 m2 of living space, all in areas of approx. 750 m2.
ENJOY A PRIVILEGED LIFESTYLE
The icon "The Residences" is the last phase of this modern housing project in Marbella. The 24 villas are beautifully designed and finished with high quality materials and offer properties with 3 and 4 bedrooms with 230 m2 plus terraces. In addition to creating new and modern villas with stunning visual impact, practical and easy to maintain, careful attention to detail by architect Rodolfo Amiev has led to the creation of magnificent interiors. living area that opens onto the terrace, saltwater pool and garden. Combined with the perfect orientation, which combines stunning sea and golf course views with privacy, the iconic "The Residences" in Marbella offer the ideal setting for the Costa del Sol lifestyle. . This truly specialty real estate project, designed with vision and love, also benefits from the full concierge services available as part of the ICON life concept at Santa Clara Golf Resort, Marbella East.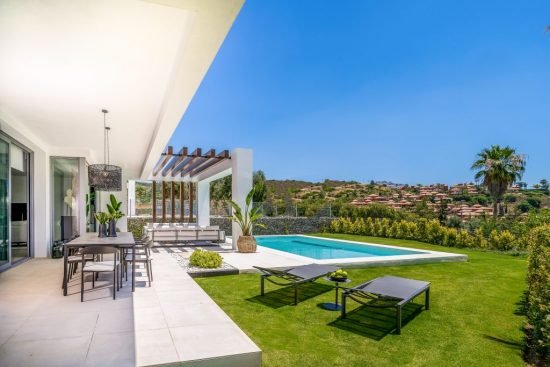 Icon The Residences, part of the prestigious Icon Marbella project in Santa Clara, east of Marbella, builds on the commercial success of this unique, high-quality residential project and offers a selection of 24 contemporary luxury villas.
Close to the beautiful beaches of East Marbella, the property offers beautiful sea views and a golf course with mountains in the background and a short walk from all amenities and facilities. in Marbella and Puerto Banús.
The villas are built of high quality materials, high-end, open living spaces lit by technical windows along the entire length and an open kitchen with Neff appliances, high-frequency electric bathroom, Daikin hot / cold air conditioning with independent control. in AIRZONE bedrooms, home automation, alarm system and swimming pool with chlorinated salt water.
These beautiful houses for sale in Marbella also include beautifully landscaped gardens, and each is set up to enhance the views while maintaining the privacy of the adjoining villas.
In addition to falling in love with modern villas, the designs are practical and easy to maintain.
THE BEST CLIMATE ALL YEAR ROUND
The beaches, towns and golf courses of the Costa del Sol are the only ones on the Andalusian coast where you can enjoy more than 320 sunny days a year.
With perfect temperatures and blue skies, life on the Costa del Sol means enjoying the Mediterranean lifestyle 365 days a year.
Great opportunity if you want to buy a villa in Marbella and live in a place where there is a mild winter, warm spring and tropical summer.
ICON RESIDENCES HIGHLIGHTS
The location is not always 100% accurate and is given as an indication.
Virtual visit of properties are also possible during these strange times. Interested? Let us know, we will organize this for you.