Luxury Thai Style Beachside Villa for Sale in Thailand
Luxury Thai style Villa for Sale in Surin Beach - Phuket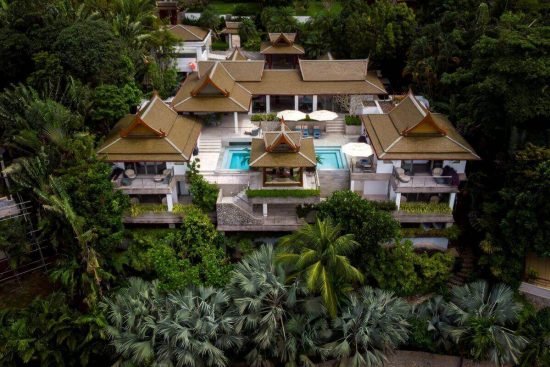 authentic thai style villa
A recently renovated luxury Thai style beachside villa for sale in a well-established gated community in Surin offering stunning ocean views of the Surin Sea and Bangtao. This spectacular property in Phuket is just perfection and ready to move in. 
This luxury oceanfront villa for sale in Ayara near Surin Beach, Phuket, enjoys 4 bedroom with sea view.
The property features well thought-out outdoor landscaping. There are steps built along the slope to access a beautiful mature garden that leads to a meditation sala.
Next to the living room and in the centre of the property you will find a private swimming pool, a large terrace, a sala and a koi pond… all with great views of the Andaman Sea. All 4 bedrooms owns a private bathroom and bathtub, double sink with large mirror, a separate toilet and a rain shower, a study and a dressing room.
Each bedroom is very spacious with 57 m². With the same interior design and colours, the sense of style is premium but comfortable. 2 of the bedrooms are in the left and right wing on the 1st floor of the property and 2 other bedrooms are downstairs with direct access to the pool bar and the relaxing area. There is also a separate pavilion for maids or villa caretakers.
Original and luxury Thai style beachside villa with panoramic ocean views for sale in the exclusive Ayara Resort in Surin, Phuket. A unique chance to purchase a marvelous beachside villa in Thailand!
completely renovated property
The living room has been completely renovated from the old design to make it more spacious and to optimize the view of the beach. The interior equiped kitchen is well designed and functional with high quality branded appliances and is connected to the dining room and the wine cellar. The outdoor area has a Thai kitchen for those who love to cook Thai food.

Two guest toilets have also been beautifully renovated. The property has a parking space for 2 cars with an electric door with remote control.
enjoy the pool all year round
A lot of technology with a fully automated lighting system, a generator, an inverter, 2 internet connections with Wi-Fi, TV, IP phones, electronic door locks, IP phone controlled doorbell (video, voice and door opener control) and CCTV cameras with iDMSS software. The property is also equiped with a water system including a reverse osmosis unit, 6 x 1,000L water tanks and sprinklers for the garden. Surin beach is only a few minutes away, either on foot or driving. Laguna is 20 minutes away and Phuket International Airport is only 40 minutes away by car.
A unique chance to purchase a marvelous beachside villa in Thailand!
The location is not always 100% accurate and is given as an indication.
A summary of the process of buying property in Phuket.
Payment terms when buying property in Phuket:
The majority of new properties in Phuket are sold off-plan or under construction. Buyers will always be asked to pay a deposit for the reservation of the unit they have chosen. This ensures that the property is taken off the market. Thereafter, some time (usually 30 days) is allowed to draw up the legal documents before the first payment is made on signing the contract.
Thereafter, the remaining payments are usually spread over the duration of the construction.
In a new villa or condominium development, each owner will pay an initial amount into a sinking fund when ownership is transferred. This amount will be used in the future for major renovations and repairs that are not part of the operating budget.
Common area management costs:
In a villa scheme (note that this also applies to a condo/apartment building), specifically appointed property managers will normally be responsible for managing the common areas.
The property management company reports directly to the owners' committee on management issues and the financial status of the project.
As a reminder, according to Thai law, foreigners are not allowed to own land outright, so a series of 30-year renewable leases are granted (Leasehold).
However, a foreigner can own the house or villa he buys (the building, not the land).
As for apartments or condominiums, there are no restrictions for foreigners to buy provided that the number of foreign owners owning a flat in the same building does not exceed 49%.
Indeed, the law stipulates that the majority of the owners must be Thai nationals.
Of course, Thai buyers are able to purchase land and house in real estate developments that offer the option of full ownership.