For Sale Seafront Villa with Private Beach in Phuket
Top Luxury Oceanfront Villa For Sale in Cape Yamu Phuket
Designed by Philippe Starck, this oceanfront villa is one of the most incredible luxury properties in Thailand. This beautiful and impressive villa is located in the exclusive private estate of Cape Yamu, on the East coast of Phuket.
BREATHTAKING SEA VIEW FROM PHANG NGA BAY
It is the largest of 30 villas in this gated community and one of the most incredible property in Thailand. It is an expansive property with incredible design.
This amazing seafront villa enjoys a privileged location which allows to enjoy a breathtaking sea view from Phang Nga Bay, the beach and the incredible surrounding landscapes.
The villa was designed by architect Johnny Kember, in collaboration with Deborah Oppenheimer, according to the specifications of Jean-Michel Gathy who merged Thai and contemporary design to create this unique home.
The villa offers 2,000 m2 of internal living area and a total of 4,500 m2 of building area including outdoor terraces.
The interior and exterior living areas are decorated with high ceilings, imported limestone floors and top quality international furnitures, the structure is a work of art by itself.
Setting on a plot of 15,000 m2, this modern property offers a private driveway, with extensive and unique landscaping.
An unique oceanfront residence in Thailand with 100 meters private beachfront.
EXCEPTIONAL DESIGN FOR AN EXCEPTIONAL LIFESTYLE
The villa also has beautiful landscaped gardens and one of the largest swimming pools in Phuket with 50 meters in length.
Building such a property at a price, architects and designers had no restrictions on the budget.
This Exclusive property has 6 en-suite bedrooms, 3 staff rooms and 2 professional kitchens, a spa, gym and cinema.
The interior design is refined, modern and very elegant. It is further enhanced by unique artwork exhibited throughout the residence.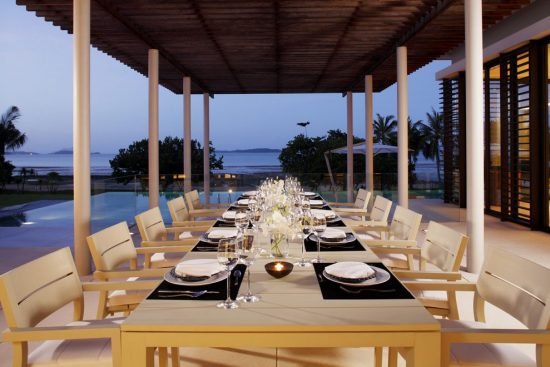 A summary of the process of buying property in Phuket.
Payment terms when buying property in Phuket:
The majority of new properties in Phuket are sold off-plan or under construction. Buyers will always be asked to pay a deposit for the reservation of the unit they have chosen. This ensures that the property is taken off the market. Thereafter, some time (usually 30 days) is allowed to draw up the legal documents before the first payment is made on signing the contract.
Thereafter, the remaining payments are usually spread over the duration of the construction.
In a new villa or condominium development, each owner will pay an initial amount into a sinking fund when ownership is transferred. This amount will be used in the future for major renovations and repairs that are not part of the operating budget.
Common area management costs:
In a villa scheme (note that this also applies to a condo/apartment building), specifically appointed property managers will normally be responsible for managing the common areas.
The property management company reports directly to the owners' committee on management issues and the financial status of the project.
As a reminder, according to Thai law, foreigners are not allowed to own land outright, so a series of 30-year renewable leases are granted (Leasehold).
However, a foreigner can own the house or villa he buys (the building, not the land).
As for apartments or condominiums, there are no restrictions for foreigners to buy provided that the number of foreign owners owning a flat in the same building does not exceed 49%.
Indeed, the law stipulates that the majority of the owners must be Thai nationals.
Of course, Thai buyers are able to purchase land and house in real estate developments that offer the option of full ownership.
Virtual visit of properties are also possible during these strange times. Interested? Let us know, we will organize this for you.