Thailand Townhouses for Sale in Hua Hin - Perfect Property Investment
2 Bedroom | 2 Bathroom | Living area: from 115 Sqm 
Thailand Properties: Townhouses for Sale in Hua Hin The Perfect Property Investment Close to the Beach.
FANTASTIC LOCATION
These Hua Hin homes for sale are surrounded by magnificent mountain views and enjoy refreshing breezes. A truly perfect location that must be seen.
Close to many good restaurants and world class golf courses, it is truly a fantastic location.
Bangkok's highway is only a short distance from the townhouses, making it easier to travel to and from Bangkok than passing through Cha Am & Hua Hin to get home on long weekends and on busy days.
A new real estate development of townhouses for sale in Hua Hin, which is located only 10 minutes from the beach and shopping centres.
2 bedroom, 2 bathroom town houses located at the back of Mali Signature, on a communal park area of approx. 3 rai (Approx 4,800 sqm) which consist of a putting green, children's play area, BBQ & relaxing sala, community swimming pool as well as beautiful landscaped gardens.
Each town house offers 115 m2 of living space, with a front and back terrace. The front terrace has a garden & pool views while the back is spacious enough for a laundry area.
There is also a dedicated parking space allocated for each townhouse and ample area for guest parking.
The townhouses are furnished with Beautiful World furniture as well as a Kvik kitchen with appliances. There are 3 blocks of town houses, 2 blocks with 6 units in each block, and 1 block with 4 units, giving a total of 16 units.
All houses are equipped with air conditioning to keep you cool during the hot weather in Thailand.
An great chance to buy and invest in a townhouse close to the beach in Hua Hin, Thailand.
A summary of the process of buying property in Hua Hin.
Payment terms when buying property in Hua Hin:
The majority of new properties in Hua Hin are sold off-plan or under construction. Buyers will always be asked to pay a deposit for the reservation of the unit they have chosen. This ensures that the property is taken off the market. Thereafter, some time (usually 30 days) is allowed to draw up the legal documents before the first payment is made on signing the contract.
Thereafter, the remaining payments are usually spread over the duration of the construction.
Here is an example:
Signature of the sales contract: 20%.
Completion of the foundations or base of the villa: 20%.
Completion of columns, floor slabs and roof frames: 20%.
Completion of the structure of the villa, including external doors and windows: 20%.
Substantial completion of the villa and final transfer of ownership: 20%.
Sinking fund:
In a new villa or condominium development, each owner will pay an initial amount into a sinking fund when ownership is transferred. This amount will be used in the future for major renovations and repairs that are not part of the operating budget.
Common area management costs:
In a villa scheme (note that this also applies to a condo/apartment building), specifically appointed property managers will normally be responsible for managing the common areas.
24-hour on-site security.
Maintenance and watering of all common area landscaping.
Cleaning and maintenance of all common areas.
Management office and staffing as well as related costs, accounting and insurance.
Electricity and water supply in the common areas. Waste collection and pest control.
The property management company reports directly to the owners' committee on management issues and the financial status of the project.
As a reminder, according to Thai law, foreigners are not allowed to own land outright, so a series of 30-year renewable leases are granted (Leasehold).
However, a foreigner can own the house or villa he buys (the building, not the land).
As for apartments or condominiums, there are no restrictions for foreigners to buy provided that the number of foreign owners owning a flat in the same building does not exceed 49%.
Indeed, the law stipulates that the majority of the owners must be Thai nationals.
Of course, Thai buyers are able to purchase land and house in real estate developments that offer the option of full ownership.
Are Foreigners Allowed to Buy Property in Thailand? You may have read or heard information that Thai law does not
Read More »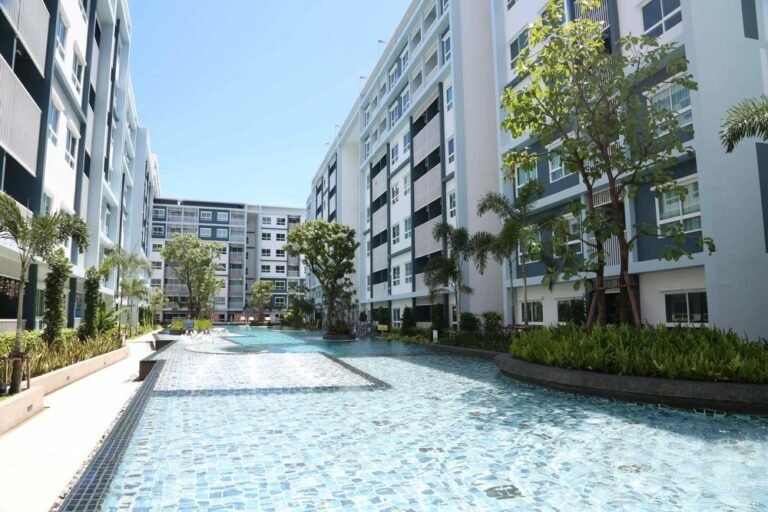 Buying an apartment or condominium in Hua Hin: The complete guide You will often have the opportunity to meet investors
Read More »
Phuket Property Market Focus on Villas For Sale Thailand in general and Phuket in particular has established itself as an
Read More »
Properties that may interest you
Pranburi Beachfront Condo 1 Bedroom For Sale 1 Bedroom | 1 Bathroom | Living area from 49 m² | Unit
Read More »