Beachfront Villas for Sale on Gili Trawangan - Luxury Properties close to Bali
Amazing Beachfront Villas for Sale on Gili Trawangan. Invest in a Luxury Property near Bali
Cocana Sunset Lagoon is a real estate development on Gili Trawangan Island, Lombok, offering for sale 60 private beachfront villas and 64 luxury suites built on 5 hectares (50,000 m2).
This beautiful 5-star resort will be the best lifestyle resort in the Bali region with a state-of-the-art beach club, international DJs, 3 gourmet restaurants, a yoga and wellness center, a spa and a fitness center. room and shopping center.
Our different types of beachfront properties for sale at Gili Trawangan:
Cocana Lagoon Suites offers a beautiful place to stay at an affordable price that is better than other comparable accommodation in Gili Trawangan. These spacious apartments cover more than 46 m2 and offer luxury furniture and high-end amenities. Ground-floor suites have pool access and top-floor suites have great views.
LAGOON SUITE SPECIFICATIONS 
Our one-bedroom villas allow you to enjoy privacy and luxury with a truly tropical atmosphere. The open-plan living and dining rooms are complemented by more spacious en suite bedrooms and walk-in closets. Each villa has its own pool and garden and offers easy access to the beach club and resort facilities.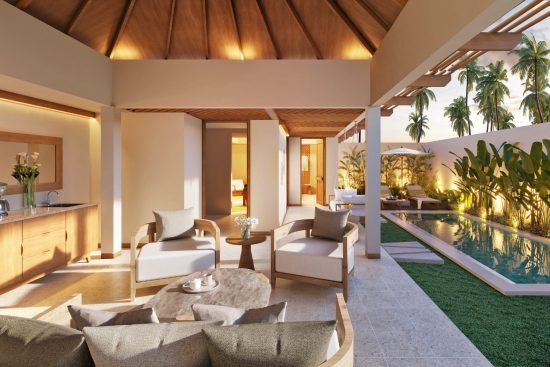 1 BEDROOM VILLA SPECIFICATIONS
Our spacious two-bedroom villas are unlike anything you'll find in Gili Trawangan. With a building size of 255 m2 on a plot of 300 m2, these beautiful villas are ideal for families as couples on holiday in paradise. Each villa has its own large private pool with Bale, which offers the perfect place to rest and relax. A large large open-plan living and dining area is located between the two en-suite bedrooms. The villas are perfectly located so you can enjoy all the facilities of the resort, but there is a great opportunity to enjoy your villa you do not want to leave!
2 BEDROOM VILLA SPECIFICATIONS 
The 3-bedroom villa is the main villa of our resort. There is only one villa with 3 bedrooms and this villa is no surprise. 600 m2 in a great and perfect location, to enjoy all that this Cocana Sunset Lagoon villa has to offer, will undoubtedly provide you with a vacation of a lifetime.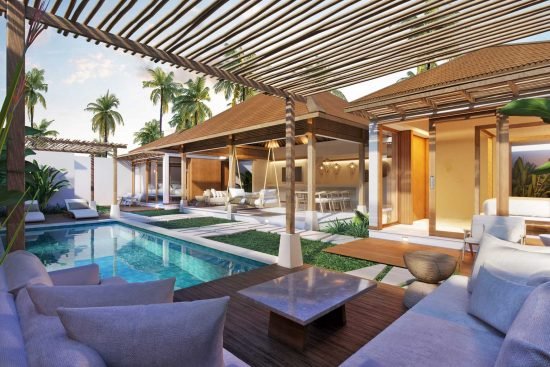 3 BEDROOM VILLAS SPECIFICATIONS 
SEARCHING FOR A PROPERTY FOR SALE IN LOMBOK OR GILI TRAWANGAN?
Gili Trawangan becomes one of the most famous tourist destinations in Indonesia. Magnificent white sandy beaches and crystal clear waters make it an island paradise, a wide range of activities, a lively nightlife, a wide choice of restaurants and easy access to both Bali and Lombok. It is only logical that this idyllic island attracts more than 3,000 visitors a day, even in low season.
Buying a house for sale in Gili Trawangan, such as Cocana Sunset Lagoon, will allow you to add a property with a very lucrative return on investment to your property portfolio. Waterfront land for sale in Gili Trawangan is extremely scarce, which means that your property will bring high capital gains while providing you with substantial income and a fabulous holiday location.
If you purchase a villa you have the opportunity to join the Cocana management programme and receive a guaranteed minimum return on your investment of 6% per annum, although all our forecasts indicate a higher return of 9-11%. All this at no cost! All owners of a villa at Cocana receive 28 days per year of free stay that you can use at any Cocana Resort and you also receive a prestigious membership to The Registry Collection that allows you to exchange your points for exclusive stays around the world.
THINK ABOUT INVESTING IN LOMBOK, BUY YOUR PROPERTY FOR SALE IN GILI TRAWANGAN!
Indonesian buyers can get their property for free and international buyers can buy their property for 100 years in their own name, which can be sold or transferred if they decide to sell their villa.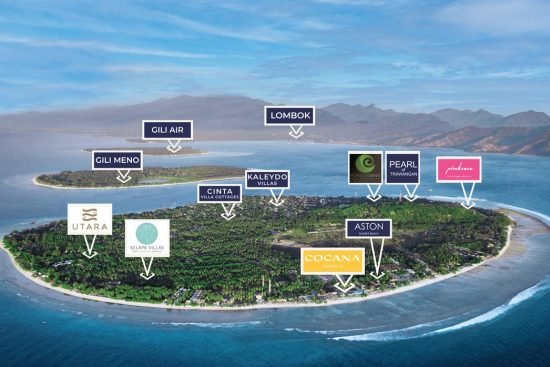 A REAL ESTATE INVESTMENT IN GILI TRAWANGAN, COCANA SUNSET LAGOON
Cocana Sunset Lagoon in Images
The location is not always 100% accurate and is given as an indication.
Virtual visit of properties are also possible during these strange times. Interested? Let us know, we will organize this for you.