Lombok Island Beachfront Villas For Sale in New Property Development
Kuara Resort is a new real estate development in the south of Lombok Island, offering beachfront and sea view villas and homes for sale.
The Kuara luxury resort offers 32 fully furnished front line beach properties with private pools and beach access.
The resort has a world-class spa and yoga centre, stables and natural pools.
Future owners will enjoy extreme comfort, elegant style and a wide range of unique and unforgettable experiences, such as archery, pottery, jungle trekking, quad biking, surfing, etc.
With a focus on sustainability, Kuara Lombok has its own organic vegetable and herb garden, as well as free-range animal stables.
Our chefs use only the freshest organic produce for the traditional cooking classes and the beachfront restaurant.
The island of Lombok is a natural wonder, offering uncrowded surfing spots, breathtaking waterfalls, mesmerising jungle trails and a rich, authentic culture.
Lombok is nicknamed the "new Bali" because of its fewer people, less traffic and focus on ecotourism.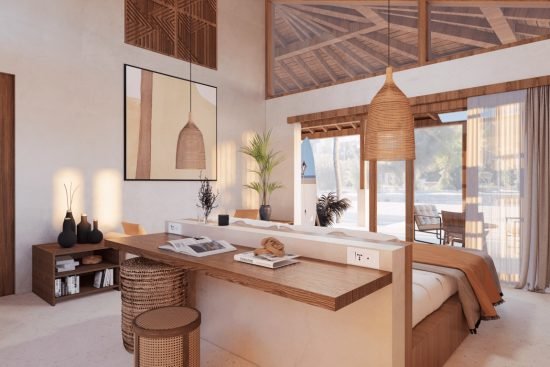 Bali has long dominated Indonesia's tourism industry, but Lombok is following suit and is fast becoming one of Southeast Asia's leading luxury destinations.
Indonesia's central government is working to increase the country's tourism revenue, create jobs and attract investors for further economic development.
The government has chosen Lombok, from a number of potential destinations, as the place to be.
With an international airport open since 2011, and the upcoming opening of the Mandalika International Circuit – the new MotoGP circuit on the calendar for 2022 – Lombok is attracting the world's biggest brands.
The Kuara property development is located in South Lombok, just 15 minutes from Kuta and the Mandalika International Street Circuit, and 20 minutes from Lombok International Airport.
Prices starting at US$250,000.
The location is not always 100% accurate and is given as an indication.
Other properties you may be interested in
Virtual visit of properties are also possible during these strange times. Interested? Let us know, we will organize this for you.